ASUS MOTHERBOARD E3 PRO GAMING V5 S1151
ASUS MOTHERBOARD E3 PRO GAMING V5 S1151
Item#:  YYS2-5585996  | Model#: E3 PRO GAMING V5
Price:

$185

.

99
ASUS MOTHERBOARD E3 PRO GAMING V5 S1151 Product Details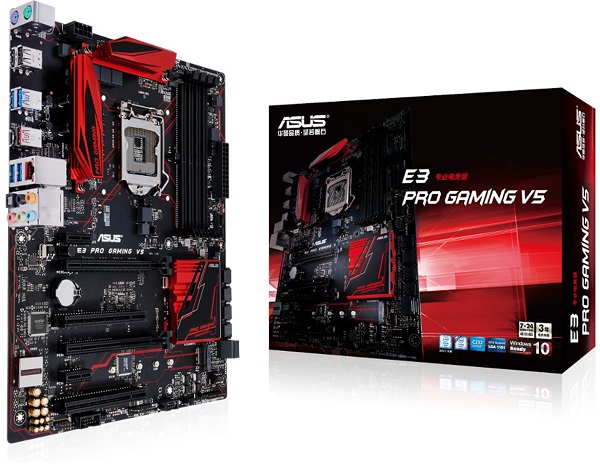 ASUS E3 PRO GAMING V5 Motherboard
Perfect ATX gaming board for Xeon E3-1200 v5 processors
LGA1151 socket for Intel Xeon E3-1200 v5 processors and 6th-genereation Core, Pentium and Celeron processors
Dual-channel DDR4 2133 support
SupremeFX: Flawless audio that makes you part of the game
Sonic Radar ll: Scan and detect your enemies to dominate
Intel Gigabit Ethernet, LANGuard and GameFirst technology: Top-speed protected networking
RAMCache: Speed up your game loads
Gamer's Guardian: Highly-durable components and smart DIY features
USB 3.1 Type-A/C and M.2: Ultra-speedy transfers for faster gaming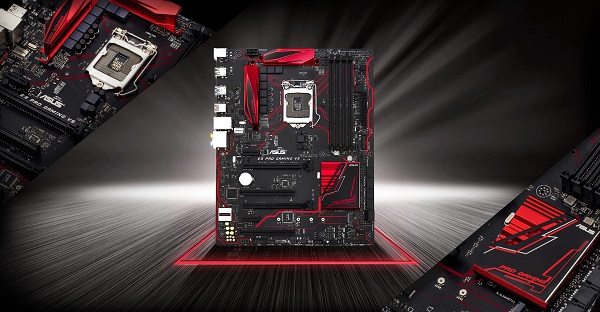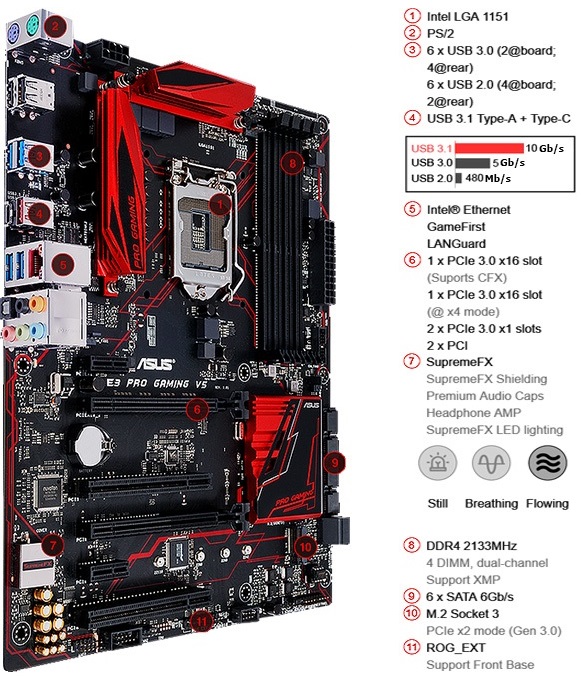 FLAWLESS AUDIO THAT MAKES YOU PART OF THE GAME!
Be the best on the battlefield with E3 Pro Gaming V5's truly immersive SupremeFX audio and experience sound so alive with realism that it hands you the vital competitive edge needed to win. With near-lossless delivery and exclusive Sonic Radar II technology to pinpoint battlefield enemies before they spot you, SupremeFX sounds stupendous --- and puts both your ears and frags in front of everyone else!
SupremeFX
Shielded audio, superior sound
ASUS-exclusive SupremeFX technology delivers high-fidelity, near-lossless audio no matter how frantic your game becomes. The purity and stability of the remarkable 115dB signal-to-noise ratio (SNR) is assured, with a shielded design, electromagnetic-interference (EMI) cover and voltage-protected 5V power supply. Supreme FX's superior components, including the trusted Realtek ALC1150 codec, maximize acoustic performance and eliminate interference – so you hear only the very best from your gaming headset or speakers!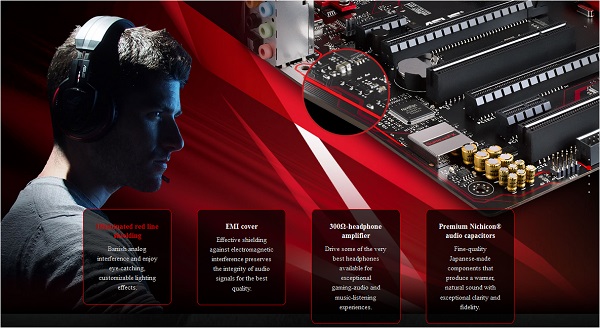 Illuminated red line shielding
Banish analog interference and enjoy eye-catching, customizable lighting effects.
EMI cover
Effective shielding against electromagnetic interference preserves the integrity of audio signals for the best quality.
300O-headphone amplifier
Drive some of the very best headphones available for exceptional gaming-audio and music-listening experiences.
Premium Nichicon audio capacitors
Fine-quality Japanese-made components that produce a warmer, natural sound with exceptional clarity and fidelity.
Sonic Radar II
Scan and detect to dominate!
Sonic Radar II displays a stealthy overlay that shows what your opponents and teammates are up to on the battlefield, all managed via a simple control panel and customizable game list. See the direction and origin of key in-game sounds, and practice your enemy-pinpointing skill, plus Audio Enhancement technology clarifies every last sound --- so you hear the distant sound of enemy footsteps and become the hunter, not the hunted!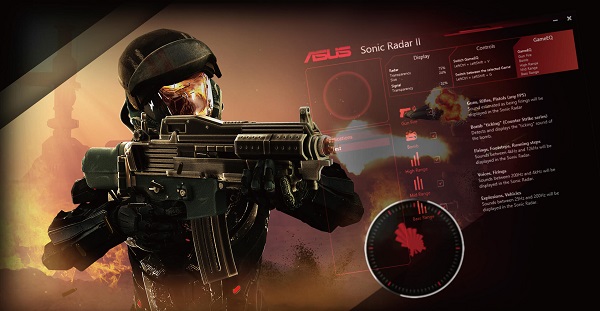 TOP-SPEED PROTECTED NETWORKING
Only the quickest shot survive, so E3 Pro Gaming V5 banishes lag --- letting you annihilate your foes as fast as your trigger finger! Our engineers pack in only the best networking technology, including tournament-level Intel Gigabit Ethernet and ASUS-exclusive LANGuard and GameFirst technologies to keep your connection fast, so always fire first and watch your enemies fall.
Intel Gigabit Ethernet
More throughput, less CPU usage and great gaming experiences

Featuring the very latest Intel Ethernet (I219LM) for faster, smoother gaming --- always. Intel's LAN has the serious double advantage of reducing CPU overhead and offering exceptionally high TCP and UDP throughput. This significantly reduces the processor's workload, so there's more power for your game and your gameplay.
LANGuard
Pumped-up throughput. Best surge protection
ASUS LANGuard is hardware-level networking protection that employs signal-coupling technology and premium anti-EMI surface-mounted capacitors for rock-solid gaming connections and better throughout for online play, plus electrostatically-guarded and surge-protected components for greater tolerance to static electricity and improved protection against surges.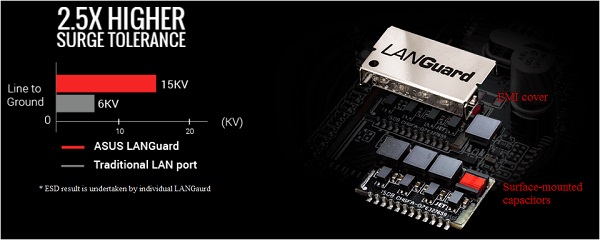 GameFirst
Team up to banish lag
GameFirst IV Beta optimizes network traffic for faster, lag-free online gaming --- and now we've added Multi-Gate Teaming to team all your networks for maximum bandwidth and the smoothest-ever gameplay. You'll also enjoy all-new Intelligent mode, which automatically compiles a database by parsing new app data to ensure that every game is optimized for the best performance.
Multi-Gate Teaming
Team all your network gateways for maximum bandwidth and assign connections to every application for the smoothest-ever gameplay.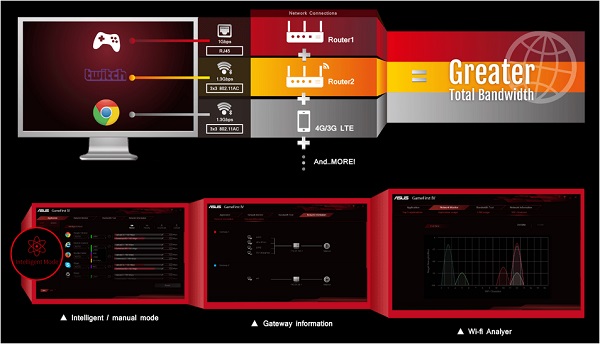 PERFORMANCE LEVEL UP
Maxed-out performance means maximum gaming thrills, and with exclusive AI Suite 3's dashboard-style control panel you'll fine-tune almost every aspect of your E3 Pro Gaming V5-based system. Get the best balance between performance, cooling, stability, efficiency and aesthetics --- all via a simple and intuitive interface.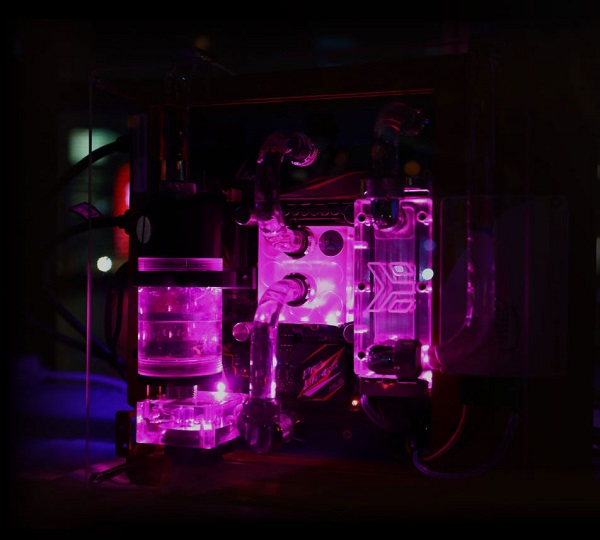 FAN Xpert3

Play quieter and cooler with advanced fan and water-pump controls for the ultimate cooling in undisturbed gaming. With five onboard thermal sensors and hardware-level four 4-pin/3-pin PWM/DC mode detection, Fan Xpert 3 makes sure every fan achieves the best balance of high cooling performance and low noise, so you enjoy all the performance you demand with none of the racket --- great for liquid-cooling setups!
USB 3.1 Boost

An exclusive utility that automatically accelerates USB 3.1 for sequential read/write speeds of up to 854.6/863.9MB/s.

* It requires to update USB 3.1 Boost to V1.08.02 or later version.
Award-winning BIOS design
The smoothest, slickest mouse-controlled graphical BIOS has been improved to make it even more appealing. Whether you're a PC novice or a seasoned overclocker, the EZ and Advanced Modes help you find your way. In EZ Mode you can get set up very quickly, applying the date and time, fan profiles and Intel Extreme Memory Profile (XMP) memory profiles. Switch to Advanced Mode to set up favorites and shortcuts, record and review recent changes with Last Modified or make notes in Quick Notes.
CrashFree BIOS 3
Never again worry about corrupted BIOS, as CrashFree BIOS 3 lets you restore a PC to working order --- even when it won't boot!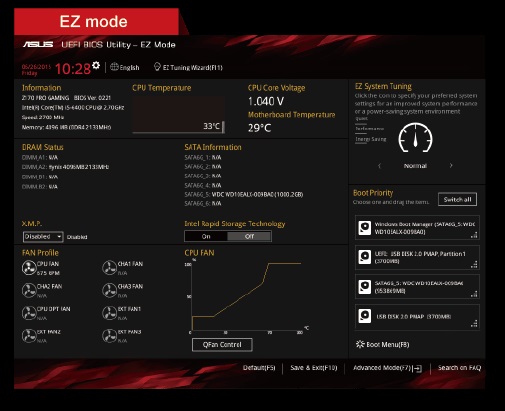 EZ Flash 3
Update the latest BIOS via the internet, and from within the BIOS.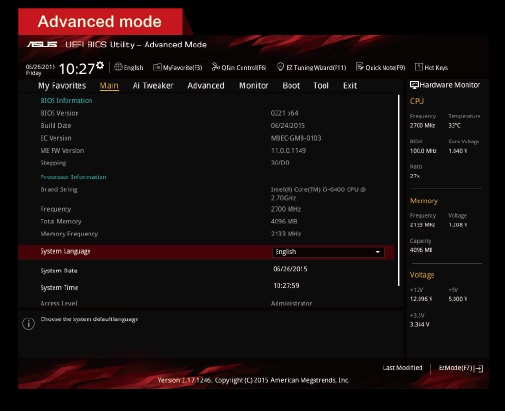 RAMCache
Speed your game loads
Uniquely-intelligent technology that effectively caches an entire storage device so that favorite games and apps launch at breakneck speeds, getting to work the moment it's activated. RAMCache turns milliseconds into microseconds to boost game-load times to stratospheric levels!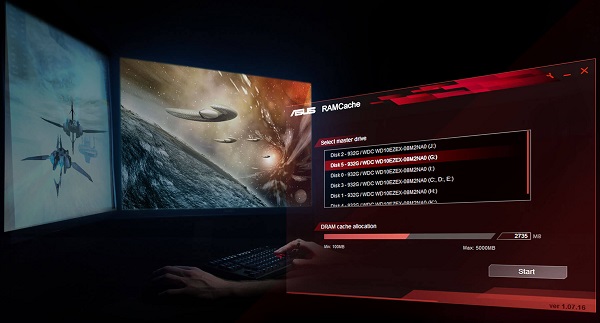 GAMER'S GUARDIAN FOR REAL-WORLD PROTECTION
Protect your back in the game and let E3 Pro Gaming V5 protect all sides in the real world! Motherboard self-protection with loads of brilliant defenses, including our unique smart DIY features ensures long-term gaming is in your future.
Digi+ VRM

Digi+ VRM voltage-regulator module (VRM) is one of the finest in the industry, ensuring ultra-smooth and ultra-clean power delivery to the CPU at all times!
DRAM overcurrent protection

All connection ports and DRAM are protected against overcurrent and short-circuit damage by onboard resettable fuses, extending your motherboard's life.
Highly durable components

Fine-quality, super-tough components are our watchwords. We fit only superior chokes, plus durable capacitors engineered to resist extreme temperature variations of between -55°C and 105°C ---110% better than the industry standard.
Stainless steel back I/O

Crafted from chromium-plated, corrosion-resistant stainless steel, the input/output (I/O) panel is three times longer than ordinary panels!
Q-shield

0 pain! Protect your hands from nicks and cuts.
Q-slot
1 clip

to swap or secure your graphics card.
Q-DIMM
1 -sided

clips mean handling memory modules is a cinch --- super simple and super secure.

Q-LED
4 LEDs

indicate problems with the CPU, memory, graphics card or boot device for quick diagnosis.
ESD Guards
2X-greater ESD protection for extended component lifespan
Electrostatic discharge (ESD) could mean game over for your rig, so E3 Pro Gaming V5 is protected by ESD Guards to actively prevent ESD --- ensuring longer component lifespan and providing system resilience that's two times greater than industry standards. Game on!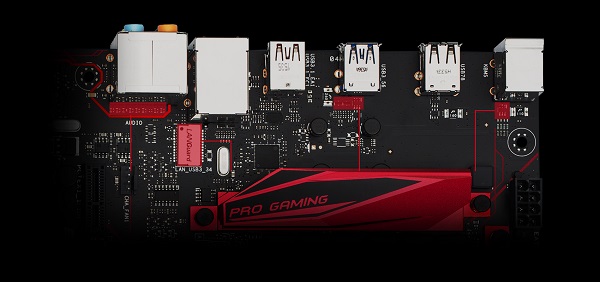 Audio connectors
Capacitor protection on both front and back audio-output circuits.
LAN connector
ESD TVS diode protection and an anti-surge LAN connector protects against extreme events, such as lightning strikes.
USB 3.0/2.0 connectors
On-circuit transient-voltage-suppression (TVS) diodes and capacitor protection for surface-mount and dual-inline
Keyboard and mouse connector
Additional on-circuit ESD TVS diodes.
BUILT FOR GAMING
E3 Pro Gaming V5 is built for play, shaped by professional gamers and tested for gaming perfection --- strong enough storm through the industry's most punishing labs workouts. We engineer and test for the finest quality, longevity, performance, stability and compatibility. Our world-class engineers are themselves avid gamers, and combine their own passion with the skills and demands of some of the planet's best players to create innovative gaming features everyone will crave. With E3 Pro Gaming V5 you do more than just play --- you'll experience gaming on the edge of reality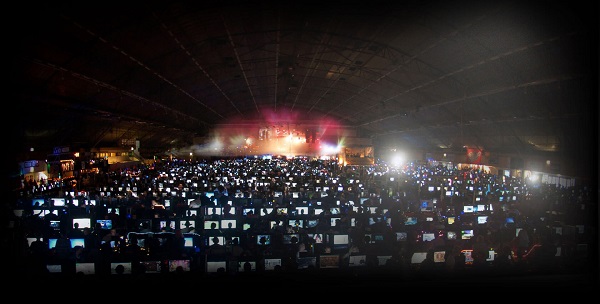 Manufactured by: Asus
Warranty provided by: Asus
UPC No: 889349282892
Mfg Part No: E3 PRO GAMING V5
Box Size: ( Length:0, Width:0, Depth:0)
Shipping Weight: 3.0000 pound(s)
Click here for full warranty and support information
Asus logos are registered trademarks of Asus. All others trademarks and copyrights mentioned herein are the property of their respective owners.