Trident Cyclops Series Standard - Protective case for tablet - polycarbonate, thermoplastic polyurethane - blue - for Apple iPad Air 2 (CY-APIPA2-BL000)
Item#:  XQY-300801015  | Model#: CY-APIPA2-BL000
Currently Out Of Stock!
You May Consider This Alternative
Trident Cyclops Series Standard - Protective case Product Details
Cyclops Case for Apple iPad Air 2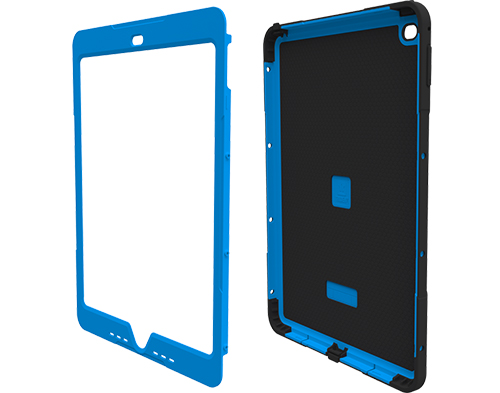 Cyclops cases provide superior protection against drops and other impacts in a slim design.
FEATURES
Cyclops cases feature shock-absorbing Thermo Plastic Elastomer (TPE) and polycarbonate, providing two layers of protection, and outstanding protection against impacts.
This case Series protects device power-ports and audio-jacks with TPE plugs to keep out dirt and debris.
These cases also include dust filters to protect speaker bays, and a built-in screen protector for the ultimate screen protection.
Each case includes patent pending audio technology that redirects sound to the front of the tablet to provide an enhanced audio experience.
Cyclops cases feature hardened bio-enhanced plastic that is recyclable, degradable and compostable, making it truly eco-friendly.
Cyclops cases meet Military Standard MIL-STD-810F for Drop, Vibration, Dust, Sand and Rain (Independently Tested).

Drop (Mil-STD-810F, Method 516.5) - 26 drops onto concrete from 4ft.
Vibration (Mil-STD-810F, Method 514.5) from 20-2000Hz across 3 different axes for a total of 18 hours.
Dust (Mil-STD-810F, Method 510.4) - blow dust for 3 hours at 29 ft / sec.
Sand (Mil-STD-810F, Method 510.4) - blow sand for 3 hours at 59 ft / sec.
Rain (Mil-STD-810F, Method 506.4) - 7.9 inches per hour of rain at 40 mph wind velocity for 1 hour.
Manufactured by: Trident Cases
Warranty provided by: Trident Cases
UPC No: 848891018021
Mfg Part No: CY-APIPA2-BL000
Box Size: ( Length:0, Width:0, Depth:0)
Shipping Weight: 0.6500 pound(s)
Click here for full warranty and support information
Trident Cases logos are registered trademarks of Trident Cases. All others trademarks and copyrights mentioned herein are the property of their respective owners.