Belkin Charger Kit - F8J031TT04-BLK
Belkin Charger Kit - Power Adapter, AC/Car, 10 Watt, 2.1 A (USB), Designed for Apple iPad mini; iPad with Retina display; iPhone 5; iPod nano (7G); iPod touch - F8J031TT04-BLK
Item#:  BEN-300629156  | Model#: F8J031TT04-BLK
Price:

$49

.

99
Shipping:

Usually Ships within 48 Hours (Details)
Belkin Charger Kit - F8J031TT04-BLK Product Details
Belkin Charger Kit
Get faster charging for USB enabled mobile devices with the Belkin Charger Kit. Its compact design as of a car charger comes with a USB port and detachable USB charging cable. The 10 Watt of power with 2.1Amp of current ensures that it charges your mobile devices up to 40% faster. This charger is designed for Apple iPad mini; iPad with Retina display; iPhone 5; iPod nano (7G); iPod touch. You can use the 4ft of detachable USB cable to sync your mobile devices with PC/laptop. Go ahead and purchase the Belkin Charger Kit right now!
What It Is And Why You Need It:
USB charging ports; lets you charge various portable electronic devices with ease
Detachable 4FT USB cord; enables you to sync the mobile devices with PC/laptop
10 Watts of power output; provides a stable power source for your Smartphones and compatible devices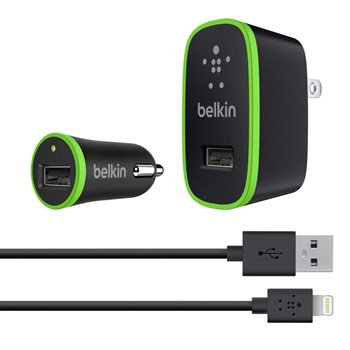 Lightning Charging Kit with Charge/Sync Cable for iPhone 6 / 6 Plus, iPhone 5 / 5S / 5c, iPad 4th Gen and iPad mini (2.1 Amp /10 Watt), Black
Ultra-compact home charger plugs into any wall power outlet
Low-profile car charger plugs into any car power outlet
10 Watt / 2.1 AMP each
Includes separate 4 foot Lightning to USB cable
Universal USB 2.0 port
The Belkin Charger Kit with Lightning to USB Charge/Sync Cable offers convenient charging solutions, whether you're at home or on the road. The car charger sits flush to your dash when plugged in, while the compact home charger fits even in crowded outlets. Both chargers have a USB port that accommodates the included Lightning-to-USB cable. The cable can be used separately with other USB-enabled chargers or with a laptop for charging and syncing.
Low-Profile Charger Sits Flush to Your Dash
With this versatile set, it's easy to keep your iPhone 5 and other devices charged, whether you're at home or on the road. The Belkin Car Charger gives you unlimited playing and standby time--without taking up your car's limited dash room. When the low-profile charger is in use, it sits flush to your dash.
Home Charger for Easy Outlet Charging
The Belkin Home Charger fits into any outlet, even if it's crowded with other plugs and cords. With 10 Watts (2.1 Amps) of power, your devices will charge quickly.
Versatile Lightning Cable for Charger or Laptop
The 4-foot Lightning-to-USB cable can be disconnected from the chargers to be used separately as a replacement cable for syncing with a computer or charging with a car charger. The Lightning connector is reversible, making it easier to plug into your device.
Integrated USB Ports Work with Any USB Cable
Both the home and car charger feature powered USB ports that are universal, allowing you to pair them with any USB cable. As long as you have the corresponding cable, you can use these chargers with legacy 30-pin Apple devices, micro-USB devices, and more.
Compatibility Information
The Belkin Charger Kit with Lightning to USB Charge/Sync Cable (10 Watts/2.1 Amps) is compatible with iPhone 5, iPad mini, iPad (4th generation), iPod touch (5th generation), and iPod nano (7th generation).
Manufactured by: Belkin
Warranty provided by: Belkin
UPC No: 722868936566
Mfg Part No: F8J031TT04-BLK
Box Size: ( Length:6, Width:5, Depth:1)
Shipping Weight: 0.3000 pound(s)
Dimensional Weight: 1pounds

What is Dimensional weight?

Click here for full warranty and support information
Belkin logos are registered trademarks of Belkin. All others trademarks and copyrights mentioned herein are the property of their respective owners.